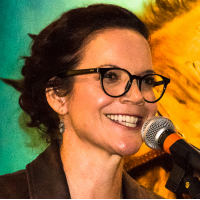 Sandra L Rostirolla
Fantasy, Teen & Young Adult
Born in Sydney, Australia, I came to America on a professional work Visa, only to find myself studying theater and dance in Chicago. After moving to Los Angeles, I put aside my Bachelor of Applied Science & MBA to study film & entertainment at UCLA.

Realizing my passion for writing, I began writing screenplays, making the quarterfinals of the American Screenwriters Association Screenwriting Competition, top 200 of Page International, and top fifteen percent of the Nicholl Fellowship.

My debut YA/Fantasy CECILIA has gone on to win the Author Academy Award (MG/YA) and the Literary Classics Award (Gold - YA/ Adventure & Silver - YA/Fantasy).

I love snow skiing and snorkeling, and live in LA with my husband and three cats.
Video
Author Academy Award - CECILIA - Acceptance Speech
Sandra L Rostirolla Books